2022 08.13 - CH3 2500 Run and Party
SIGN UP IS NOW CLOSED -  see you Staurday you party animals!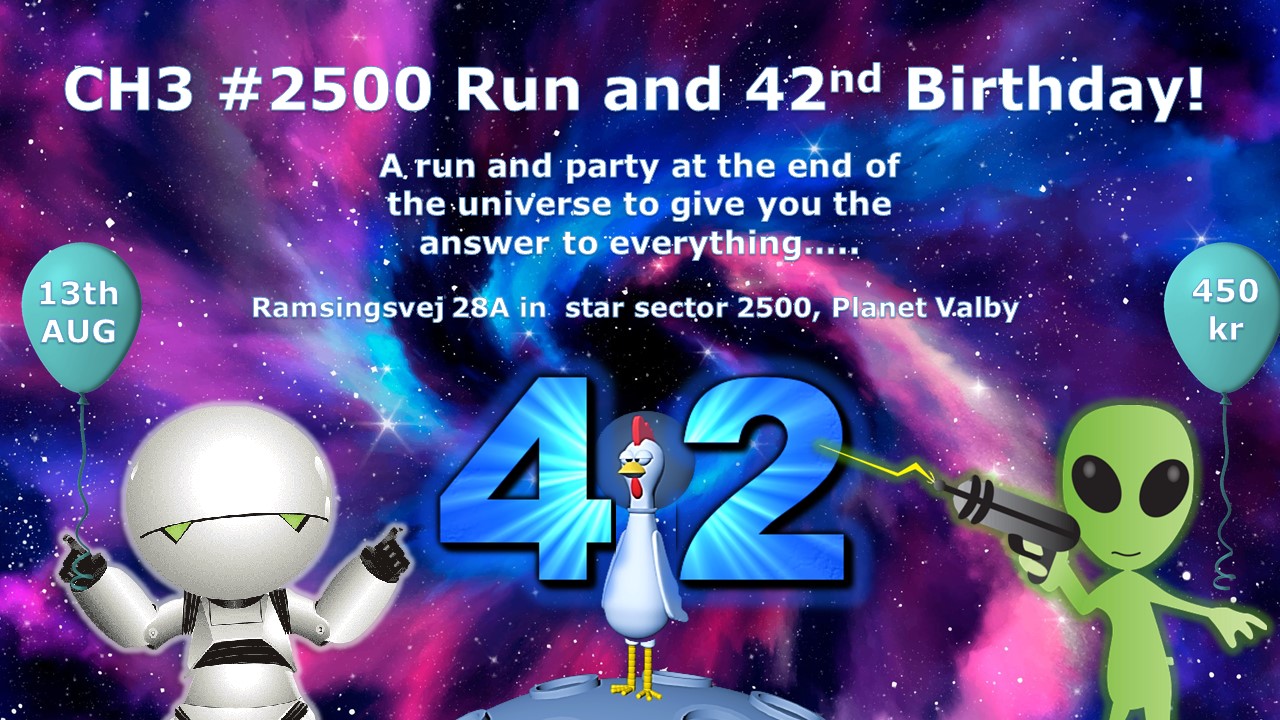 The universe has thrown at lot at little old Earth in the last few years but with a bit soul searching and contemplation it is important to remember that the "answer to the ultimate question of life, the universe and everything…." Is 42!… as spoken by our true overlords from Hitchhiker's Guide to the Galaxy. This coincidently, is also our incredible CH3 birthday age this year! Come and celebrate our 2500 run with a "Party at the End of the Universe," Embrace your space bending, cosmos creations and futuristic visionary costume ideas and come join the CH3 crew for an afternoon run and an evening of celebrations, drinks and food.
The 2500 CH3 run will kick off at 13:00 the 13th of August. This is an official CH3 run so expect the usual with maybe a few out of this world surprises!
There will be time to head home for showers and costume refreshes or transformation as the evening festivities will begin at 18:00 with food being served around 19:00. If home is close to being in another galaxy there is access to a shower at the party venue.
Unlike the real universe with no end and infinite possibilities, the party will in fact end at 01:00. Teleport yourself home or get your new alien slave to carry you... to your bed…or theirs…
The party fee will cover food, beverages, venue hire and will also include a new CH3 Viking's T-shirt
Run:                    13:00
Venue:                Ramsingsvej 28A in star sector 2500, Planet Valby
Start:                  18:00
Food:                  19:00
Finish:                 01:00 (14th AUG)
Hangover run:   14th AUG, Hare – Mr Petit, location TBD
Kindly pay our Master of Money and Moons
Amount:             450kr
Account:             5332 0254152
Bank:                  Arbejdernes Landsbank
Description:       Birthday Party 2022 - Run #2500
Register on our Star-studded Sign-up Sheet of Space Chickens